A life praying

Since four centuries the Oblates know a prayer to Saint Francesca saying: "Oh mother, cast a glance over us, your daughters, and do not abandon us, since although unworthy we are your daughters...", the truth of this progeny can be found again in the charisma that moulds the physiognomy of Saint Francesca's Oblates. Francesca showed since the infancy her love for the ascetic life of the desert's Fathers and, for the whole life, she put aside in her heart the nostalgia of the cloister. She touched her spiritual daughters with ardent desire, entrusting them the Rule of St. Benedict. The first appointment to which "nothing can be preferred" (RB 43,3) St. Benedict says, it is the liturgical prayer, therefore for each Oblata of Saint Francesca, so said "The Roman", it is the first and irreplaceable duty.
The Opus Dei scan the monastic day:
5.30 a.m. - getting-up time;
6.00 a.m. - praises;
6.30 a.m. - Holy Mass;
11.30 a.m. - the sixth and ninth hour;
5.00 p.m. - vespers and rosary;
6.00p.m. - lectio divina;
7.00 p.m. - readings;
8.30 p.m. - compieta;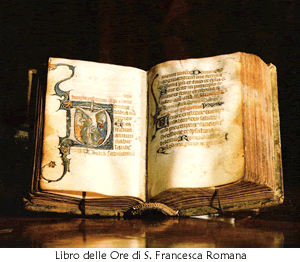 The choral prayer is with the personal prayer that replaces and animates the daily occupations. The attention to the presence of God is sustained by the silence, the setting of the monastery is quiet, although never without heating brotherly charity.
Brotherly charity is, in fact, the evangelical norm of the Oblates reassuming the whole Rule.

The Oblates make the vow of poverty, chastity and obedience and in such way they go with inexpressible sweetness of love into God's commandments .
John Paul II, the Saint Father, in a letter he sent us on January 15th 1984, he wrote: "today's society needs souls full of love for God, encouraged and strengthened by the grace, and sensible hearts to the needs of today's society, people knowing how to complete an evangelical radicalism with austere discipline, cheerful sacrifice and generous donation."