Activities
This monastery melts contemplation and action: young Francesca expectations to devote herself to God are harmonized with the mature Francesca charity to help in body and in spirit the poor and sick brothers. Through the Offices of the Virgin Mary, in fact, the Oblates give assistance to their brothers, helping them for their own necessities, cooperating to the improvement of the divine work of the creation.
The great intuition of our Saint Founder not limiting the apostolic work of the sisters to a specific activity, has allowed to practice so many talents that God gave us in the centuries to do good for our brothers, with a particular attention to the Church's demands in these last centuries.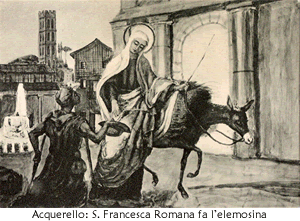 YESTERDAY
The first work was the assistance to the sick and poor men, it stopped in 1600 with the first hospital orders.
Then there was the education for young girls.
In 1900 the Oblates worked for the missions, manufacturing suits and collecting funds for charity.
After the First World War they were entrusted from the town-hall to seek out all the war's prisoners and to contact their families.
Between the two world wars they began the "holy work of Saint Zita": the Oblates offered a scholastic education to girls, and then helped them to find an employment.
In 1959 they started the so called "family-house" thought for the least well-to-do girls employed in Rome or for girls studying at university.
TODAY
The long tradition of the hospitality in our monastic family, goes on accomodating young university students for the whole period of their academic career.
Hospitality is also given preparing children to the First Communion.
The spacious and pleasant walls of the monastery offer the possibility to live a spiritual and playful experience at the end of the catechism.